If you've joined our web hosting family and you have domains registered with a different hosting company or registrar, we have a simple and automated system to transfer your domain to your new hosting home.
Below are a couple of the benefits of transferring a domain:
Domain Privacy
Spammers love using publicly available domain registrations as new targets. Without Domain Privacy, your domain contact information is available to anyone.
We offer FREE domain privacy on all of our domains.
Easy Management
All of your domains in one place with self service for name servers, renewals, and cancellations. Register a domain with us and you can keep your domains and hosting in one easy to manage place.
Domain Locking
Prevent unauthorized tampering of your domain names. This gives you security to prevent "hijacking" of your domain or tampering of your WHOIS information. You retain total control to also unlock any domain should you choose to do so for any reason.
Getting Started
In order to transfer your domain registration to Create, there are several prerequisites that must first be accomplished:
Unlock your domain at the current registrar.
Deactivate Domain Privacy at your current registrar.
Make sure the domain is at least 60 days or older.
Get the unique EPP Code associated with the domain.
Once the prerequisites have been checked off, you are now ready to start your domain transfer.
Click Here!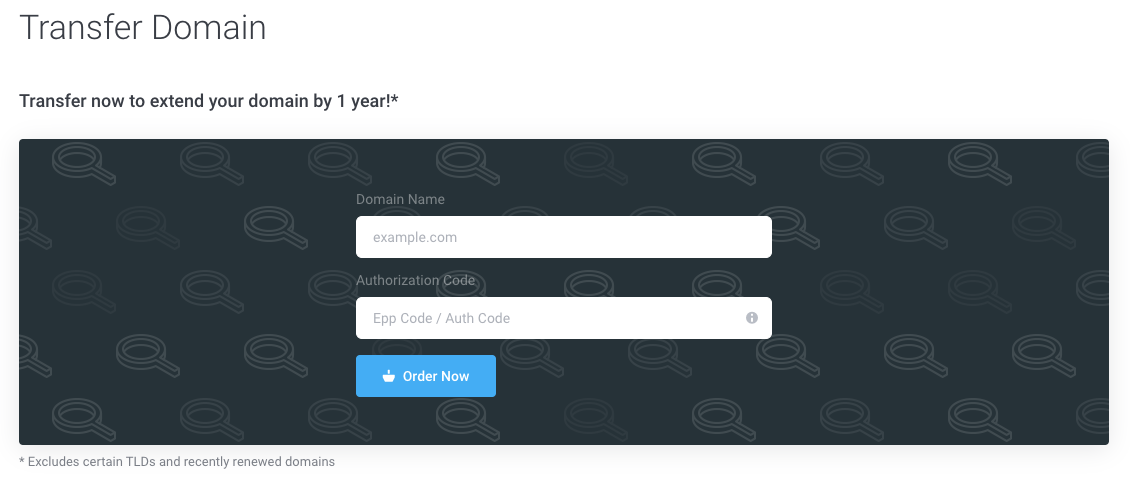 As shown above, all you need to get started is the domain name you would like to transfer and the associated unique EPP code for that domain. Depending on your registrar there may be an email verification that is required to be validated to initiate the transfer, for security purposes.
Always keep in mind that we have a wide range of TLDs available to register any new domains you may need at any time. Browse or check for any domains you would like by clicking here!