SSL stands for Secure Sockets Layer. SSL is an encryption protocol that secures your information on the internet. We provide free SSL certificates to all websites hosted at Create.com. Our SSL certificates are automatically installed if your name servers are pointing to our server. The main use for an SSL is for e-commerce websites taking any form of payments. E-commerce websites always require an encryption protocol in order to take payments. The certificates that we provide will automatically renew so there is no need to worry about having to renew it.
There are many SSL providers and you are able to use any third-party SSL certificates if you'd rather provide your own. You now have access to install these directly though your cPanel for any domain hosted on it. You can install these at anytime by logging into your cPanel and scrolling down to the bar that reads Security, then clicking on SSL/TLS.

Once on that page, it will give you the tools to manage and upload the third-party SSL to your site.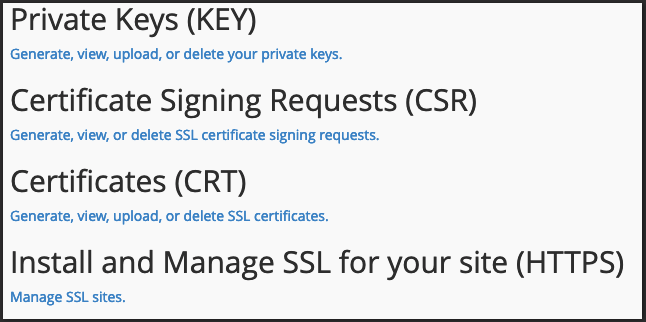 Forcing HTTPS to your URL
When you install an SSL certificate, the main way for any visitor to tell if the site is secure, is at the beginning of the site URL. The easiest way to verify is to look for the HTTPS at the beginning of the URL, the "S" at the end of the HTTP signifies the site is secured. Sometimes the "S" might not be visible, but the site can still have an SSL installed. If you ever want to verify if a site has a certificate installed, there are multiple websites available for verification such as:
cPanel
A new feature in cPanel is the Force HTTPS Redirect option. Just click Domains or Addon Domains in cPanel, depending on the URL you want to force to redirect to HTTPS. Then just click the slider that says: Force HTTPS Redirect to automatically force all HTTP requests to redirect to HTTPS.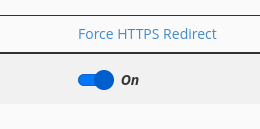 Wordpress
There are also many other ways to force HTTP requests to HTTPS. Typically most CMS (content management systems) such as Wordpress will have plugins available to install that will force a redirect from HTTP to HTTPS for you. A popular plugin that's recommended would be Really Simple SSL.

HTML/PHP
When you have a site that's in HTML or a PHP script, the best way to force HTTPS is to edit the .htaccess file. This file is commonly located in your websites public_html file. When you edit this file you'll be adding the following rewrite rule:
#Always use https for secure connections
#Replace 'www.example.com' with your domain name
# (as it appears on your SSL certificate)
RewriteEngine On
RewriteCond %{SERVER_PORT} 80
RewriteRule ^(.*)$ https://www.example.com/$1 [R=301,L]