NOTE: DNS changes in cPanel will only work if your domain is pointed to Create.com nameservers.
Add An A Record
DNS A record changes can be easily managed within cPanel using the Zone Editor application.
1. Login to cPanel and click Zone Editor under DOMAINS section.

2. Click the +A RECORD button to add a new A record. Choose Name value and Address (This would be the IPv4 IP address where you want the record to resolve.) for the new record and click Add An A Record.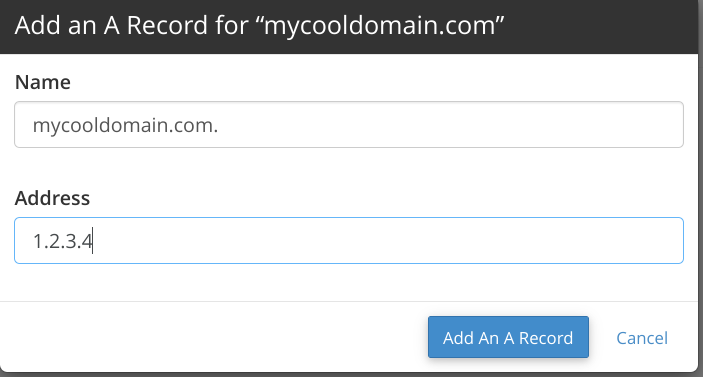 Edit or Remove DNS Records
To edit or remove DNS records and see an overview of your records, click Manage next to your domain in Zone Editor.
1. Login to cPanel.
2. Click Zone Editor.
3. Click Manage button next to the domain for records you want to edit or remove. In this case we can see the A record we created for mycooldomain.com pointing to 1.2.3.4.


4. Click Edit next to a record to change the Name or Record (refers to IP Address). Click Delete to remove a record. You will be prompted to make sure you are certain you want to remove any records.